Buy what you enjoy if it goes up that is a bonus.
I use Overstreet and Wizard and other statistics.
and I have others unlisted in Marvel Feature
no prices since they change too frequently
Rob Gustaveson
P.O. Box 1261
Phoenix, OR 97535
I accept checks, money orders and paypal
(for credit cards and electronic transfer).
website:

Bookmark and refresh, come back often...
Shipping in the USA is $2.50 for one comic; $7.00 for 10 comics
1st class is usually used; Priority and Media Mail are options too. All orders sent confirmed.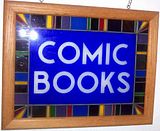 Art, Books, Comics

Since 1965